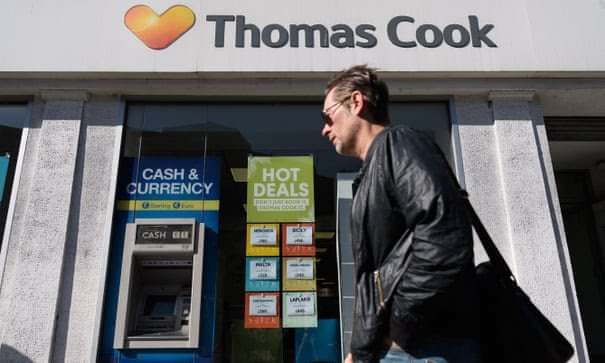 25
09 / 2019
The recent news of the Thomas Cook collapse will certainly have a devastating effect on a great many people. We at Oludeniz Homes send our heartfelt sympathy to its 20,000 key staff, hoteliers, logistics and supply chain, agents, and of course the thousands of customers who are either stranded or had their holiday plans shattered. One way or another, we will all be touched by the demise of this iconic company.

Our company, Oludeniz Homes have been selling real estate in the Fethiye area since the 1980's. During this time, we have seen many ups and downs in our industry, the most recent of which was the UK recession. The confidence in Turkey as a holiday destination has had its problems in recent years too, and this latest disaster will almost certainly have an influence on the way people think about foreign holidays in the future.

So, we got to thinking whether the demise of the world's oldest travel company would have any effect on the real estate business here in Turkey?

Will the Thomas Cook situation have any effect on the buying and selling of property in Turkey?

Well, it's a very big question isn't it? We thought long and hard before we reached our verdict. The answer is, of course, a resounding 'yes'. But why?

For a start, a great many of our clients choose to purchase property as an investment. They rely on generating a sensible income from holiday rentals to help pay their mortgages. Short term, until the situation becomes clear and the market calms down, we believe the existing flight companies will certainly attempt to exploit the situation. The lack of industry competition will lead to increased travel prices. I'm not blaming the travel companies for doing this, at the end of the day, business is business isn't it? It depends on your morale code but these companies have shareholders to satisfy so will see this situation as an opportunity – every cloud has a silver lining doesn't it? Of course, brand loyalty is worth a lot in the travel industry so these companies will need to be very careful how they manage this PR, customers have long memories don't they?

Secondly, Oludeniz Homes has a sizeable quantity of brand new and resale properties in its current marketing portfolio. At the moment prices are very competitive compared to other countries and the market is ever buoyant. We have even seen property prices increase this year. We constantly rely on attracting potential buyers to come and visit the area, to view properties and of course invest in a villa, an apartments or plot of development land. Our opinion is that short-term, the number of visitors to Turkey will greatly reduce – especially of course for buyers coming from the UK. Our research suggests that numbers in and around the Fethiye swell to 750,000 people during the summer. We are not sure that this will be sustainable in the future. Everyone can see on social media that flight prices are more expensive this year, so what will happen in the future?

Of course, there is always an element of people, particularly in the resale market, who need to sell their properties urgently. This continues to be the case each and every year. The present situation will do nothing to help sustain prices up for the owners who need to sell. On the flip-side it could be good news for those clients looking to invest in a dream property.

There is no denying that the Thomas Cook situation will create uncertainty around the holiday industry. This will almost certainly cause jitters within the property market. We shall have to wait and see how things progress but clearly the market will be unsettled for the months that follow. And we haven't even mentioned Brexit yet!